WE'RE MICHELLE AND JACLYN
We're just like you. We are always searching for beauty and connection within our lives – and through our work we help to create those things for others. We know the significance of the thousands of fleeting moments we capture.
How humans craft the stories of our lives in our minds has always fascinated us. Our lives' work is helping to add to your personal narrative and create meaning.
We're sisters, specializing in natural and candid wedding photography in Toronto with a timeless, romantic aesthetic.
We have been Toronto Wedding Photographers since 2010 and are seasoned wedding photographers and take pride in delivering heirloom quality images and assisting our couples to make the most of their wedding day.
3Photography is a wedding photography boutique based in Toronto, Ontario, Canada.
After graduating university and assisting other wedding photographers, we soon decided that we wanted more. One night over a plate of spaghetti (and unlimited bread and salad) we talked for hours about work and life and decided that we had to join forces and start our own business. We instantly started to create a website and gather our portfolio. It didn't take much thought as to what we would name our business. It would be "3Photography".
People ask us why "3" Photography, since the business is headlined by two, not three people. The number "3" signifies the powerful relationship that we had, and still have, with our mother who has passed away. Part of our business is dedicated to her, to show her and ourselves how far we've come together.
Looking at a photo of our parents with us as little ones, or getting our hands on photos of our grandparents, is so important to both of us now. Those photos are able to tell us things about our lives that we can't hear from our parents anymore. They provide us with narratives about ourselves, our childhood, and our history – this is so precious to us. We feel very privileged to help you create these memories for yourself and your family.
Be sure to check out our blog or contact us to book a consultation.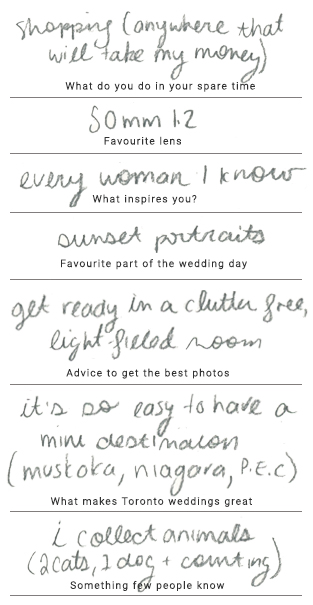 Hi, I'm Jaclyn. My days are made up tackling 1 million to-do lists scattered across my desk, entertaining my barnyard household of 2 cats and a dog, and spoiling my one year old. My favourite things are noodles of any kind, TV, John Mayer's Instagram and buying holiday related items at HomeSense.
It is the most gratifying feeling to capture special people in pretty light, before running home to make it all come together in the editing room. I am so grateful for the opportunity to do so.
I'm Michelle. I love to spend time outside exercising or going for long walks but sometimes I'm secretly happy for dreary days spent indoors making dinner or browsing Pinterest! My 4 year old and one year old twins keep me busy when I'm not making magic with the loveliest couples.
I feel so privileged to be able to run a business being creative and meeting the nicest couples who end up feeling a bit like friends and less like clients.