We love love getting every inquiry and are truly so honoured whenever anyone considers us to photograph their wedding. There are some wedding venues that make our hearts beat a little faster make us extra excited to collaborate with the couple on their wedding day. Here are some of our absolute favourite Toronto wedding venues 
1. Airship 37
– Nestled in the Distillery District, Airship 37 is in a spectacular location for a wedding. Iconic Toronto architecture, restaurants and markets make for perfect photos. Airship 37's own space is really really special. It balances out the Distillery District's old heritage buildings with a modern interior, filled with light and large windows. The enormous doors create a great in/out space where guests can wander in and out to mingle and grab appetizers and the faux grass in the courtyard gives a garden party vibe. We love locations that accommodate a wedding ceremony, and cocktails, and a reception. 
2. Malaparte
Located right downtown, Malapate weddings get the hustle and bustle of the city but once up the elevator on to this Toronto rooftop wedding venue the Toronto skyline (including the CN tour) Malaparte feels both intimate and grand. We love the idea of getting to stay in a grand downtown Toronto hotel before your wedding and either walking over or taking a quick uber to the venue. Once again (are you sensing a theme) this venue is able to accomodate ceremony, cocktail hour, wedding photos, and reception. Guests wondering where to go or where to park is not the vibe for your wedding day. Malaparte allows you to show off Toronto while also keeping your day simple and intimate. In terms of decor the world is your oyster, the venue made smart choices with finishes and colours with lots of neutral fixtures and finishes.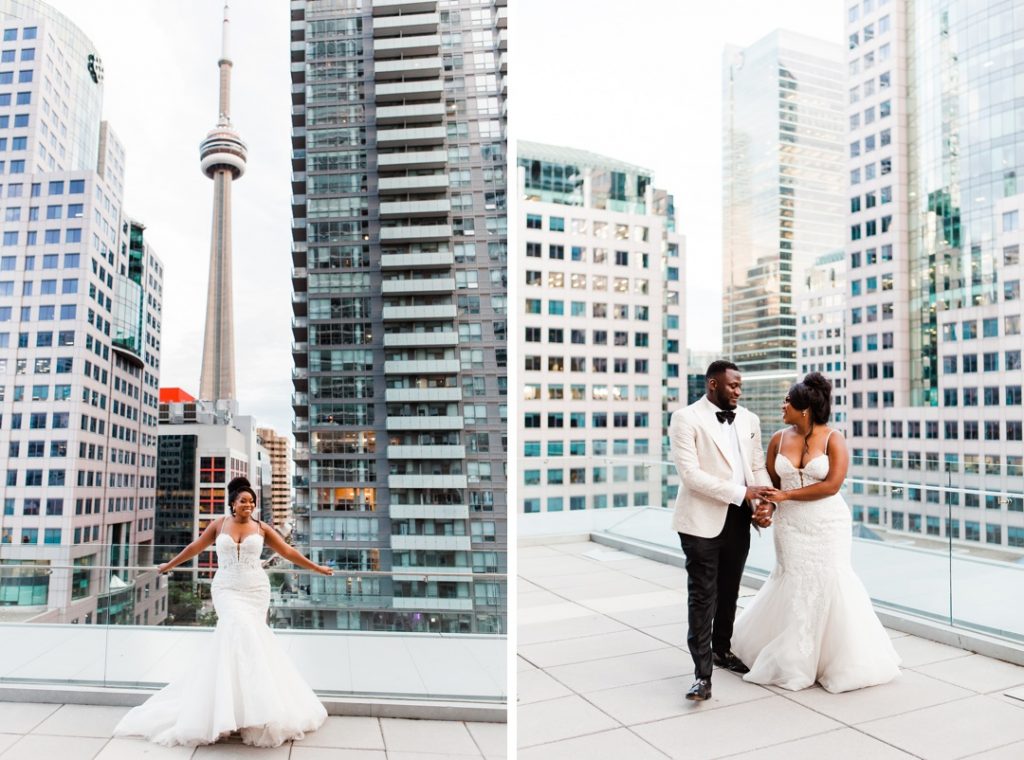 3. Toronto Botanical Gardens 
A true gem. the perfect Garden party wedding with a little terrace for cocktails and maybe even live music the space feels intimate and special. The area is cordoned off for private events. They have an event space and hall but it doesn't feel like a wedding factory, it's special and you won't see another couple getting married. The gardens are show-stopping and fabulous all seasons. We've photographed weddings here year-round and the natural beauty is jaw-dropping during any season. The ample parking for guests and vendors is a great bonus an convenience factor. We'd recommend bringing in chairs and decor as the space is a blank slate, so it's perfect for someone with a vision who wants to make it their own.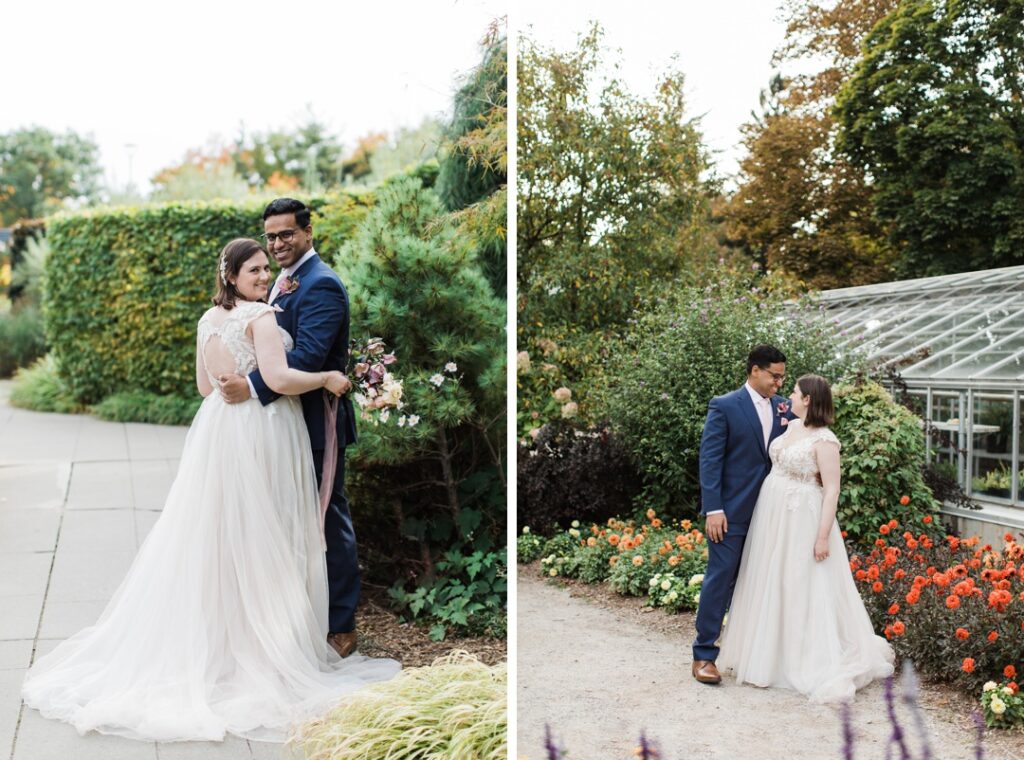 4. Peter Pan Bistro
Ah finally a restaurant wedding, one of our favourite categories for a few reasons. Restaurant weddings are likely to be more intimate with only close close friends and family invited but we also love that you have a built-in proven (delicious) caterer.
Peter Pan Bistro has a great vibe. It can definitely be quirky with the location (Queen and Peter street right downtown) that lends off an eclectic vibe. Or it could also feel quaint and historical with the gorgeous wood panelling detail and original stained glass feature at the front of the room. Seating only 60 for a full meal or 90 for cocktails it's definitely not for a large wedding but spaces feeling a little too small (only a little) are our favourites. Just that detail is able to turn up with excitement. We'd envision wedding portraits with the iconic queen streetcar or street art in the background.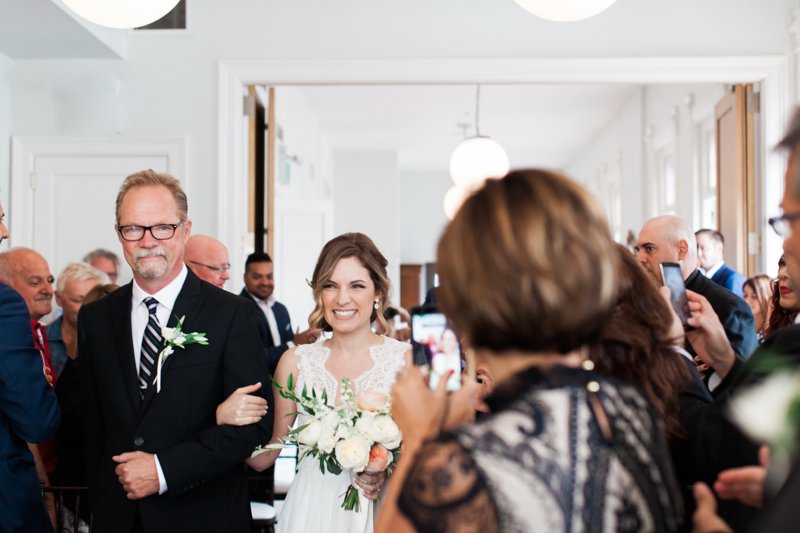 5. Evergreen brickworks
A huge venue filled with magic. With so many rooms and spaces the world is really your oyster. A huge wedding with an incredible live band and DJ? Check. A special ceremony space filled with twinkle lights? Check. A stunning wilderness-in-the-city portrait session? Check. The natural beauty of the brickworks space is unmatched along with its size. The ground are enormous giving your guests a lot of things to do and see during cocktail hour if they'd like. We're sure they will also enjoy the ample no-stress parking too.
The space consists of many buildings so the configuration that works for you is completely your choice. You could bring in decor but the space itself is so beautiful you might not need much too except for a few statement pieces. The twinkle lights, heritage facade, and sunset photos are included.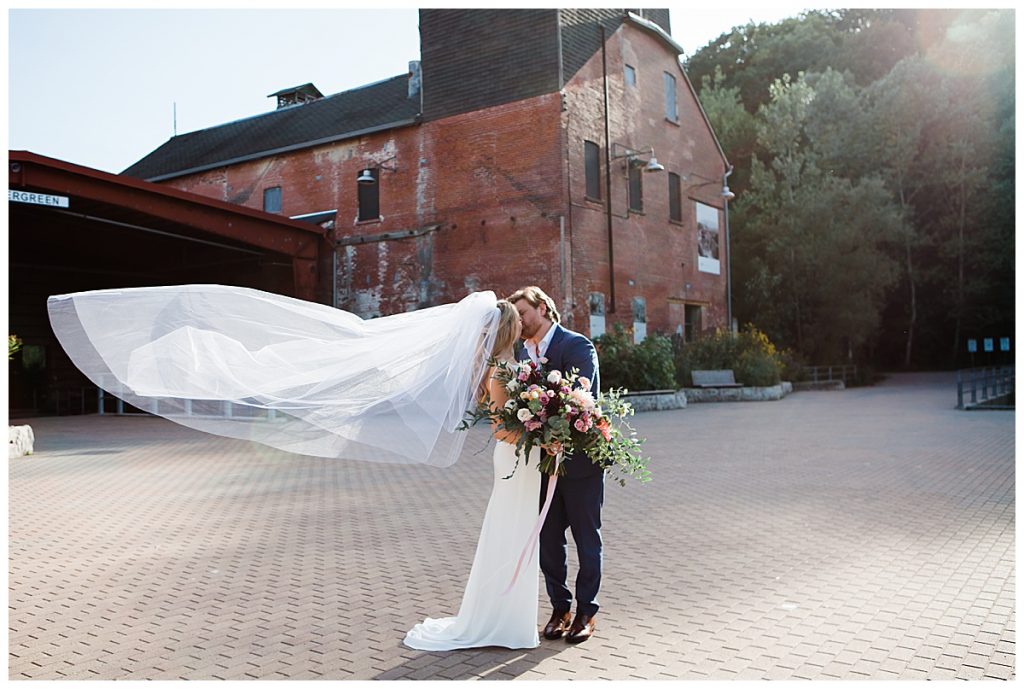 6. de La Salle College
de La Salle College is such a great place to have a wedding. Another Toronto Heritage building but this one still functions as a working private school most of the year. The interiors are as vintage and historic has they come decorated with special gold framed mirrors and marble fireplaces, its many tiny rooms are so fun for a wedding to descend upon and in many ways so practical too. With ample space for the bridal party groups to each get ready in own rooms, the venue also allows you to move your guest seamlessly all around the grounds depending on the time of the day. Cocktails in one room, ceremony either in another room or outside, and dinner and dancing in another.
7 Storys building
Another historic building! This one is in downtown Toronto and is a new an event venue. Right in the hustle and bustle of the entertainment district. The white painted brick keeps everything light and bright inside and lends a modern feel to a historical building, a perfect mix if you're not sure which direction you want. Or you could use your decor to accentuate either the buildings historical aspect or simplistic finished. We love that time of year is less of a factor downtown city weddings because the cityscape is the background so you can be less reliant on whether the trees have leaves.